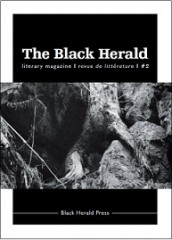 Le deuxième numéro de la revue que je coédite avec le poète Paul Stubbs paraît dans quelques jours. On peut désormais le commander en ligne (ou par email), en attendant de le trouver dans les librairies signalées sur le site.
http://blackheraldpress.wordpress.com/buy-our-titles/
On pourra y lire, entre autres, des textes (en version originale et en anglais) des poètes français Laurence Werner David (poème traduit par John Taylor), dont nous avions déjà publié un poème (L'Epousé / The Bridegroom) dans le premier numéro de la revue, Pierre Cendors (dont le prochain roman, après Engeland, paraîtra en octobre chez Finitude) et Jos Roy, dont on peut découvrir des textes dans le dernier numéro des Carnets d'Eucharis, et qui tient un blog poétique (vivement recommandé) : http://belarbeltza.blogspot.com/
On pourra de même lire une sélection d'aphorismes de Georges Perros (choisis et traduits par John Taylor) ainsi qu'un essai portant sur le poète Tristan Corbière (par Jean-Baptiste Monat, avec sa version anglaise en regard, par Rosemary Lloyd), un autre sur Arthur Rimbaud (par Paul Stubbs) et un troisième sur Jacques Derrida (par l'auteur britannique Hugh Rayment-Pickard). Du côté des aphorismes, nous publions aussi le Slovaque Róbert Gál (traduit par Michaela Freeman), qui est l'auteur d'un ouvrage paru chez Twisted Spoon Press (Signs & Symptoms), entre autres.
Les poètes de langue anglaise (pour la plupart traduits en français dans ce numéro), originaires d'Inde, de Grande-Bretagne, de la Nouvelle-Zélande ou encore des États-Unis sont eux aussi bien représentés : W.S. Graham (encore peu connu en France), Clayton Eshleman (par ailleurs traducteur de César Vallejo, d'Antonin Artaud ou d'Aimé Césaire, plus d'informations ici), Andrew Fentham, Hart Crane, Paul Stubbs, Alistair Noon, Iain Britton, Gary J. Shipley (dont on recommande l'ouvrage Theoretical Animals) Sudeep Sen, Will Stone, Delphine Grass et Michael L. Rattigan. Par ailleurs, on retrouvera le Néerlandais Onno Kosters (poèmes extraits d'un ouvrage intitulé Anatomy of Silt).
Quant à la prose et à la fiction, nous sommes heureux d'accueillir des auteurs de divers horizons, dont Jacques Sicard (dont on peut lire certains textes ici) Dumitru Tsepeneag, André Rougier, Khun San, mais aussi le Péruvien César Vallejo (traduit par Michael Lee Rattigan), Danielle Winterton (qui coédite la revue Essays & Fictions), Lisa Thatcher, Anne-Sylvie Salzman, Dimíter Ánguelov (traduit par Cécile Lombard) et Robert McGowan (dont on peut découvrir les travaux et les ouvrages ici).
Enfin, nous remercions Jean-François Mariotti et Romain Verger pour leurs photographies.
Pour toute information supplémentaire sur les contributeurs de ce numéro.
Contact : blackheraldpress(at)gmail(point)com